RHS Chelsea Flower Show
RHS Chelsea Flower Show 2015
In 2015 we were delighted to be chosen to exhibit at the RHS Chelsea flower show, our trade stand was situated in Ranelagh Gardens, the artisan area of the show. To be able to display our obelisks and to speak to Garden Designers, Landscape Architects, private clients and customers directly was a wonderful opportunity to inform, sell & showcase our hand crafted obelisks. For the show stand display we made a selection of Obelisks from our smallest 160cm up to our large timber 240 cm obelisk, along with an Oak obelisk and Oak tower. We decorated our trade stand with Lavender, Clematis and climbing roses to provide visitors with an idea of things to grow on and up the obelisks as well as an increased visual experience and wonderful scent.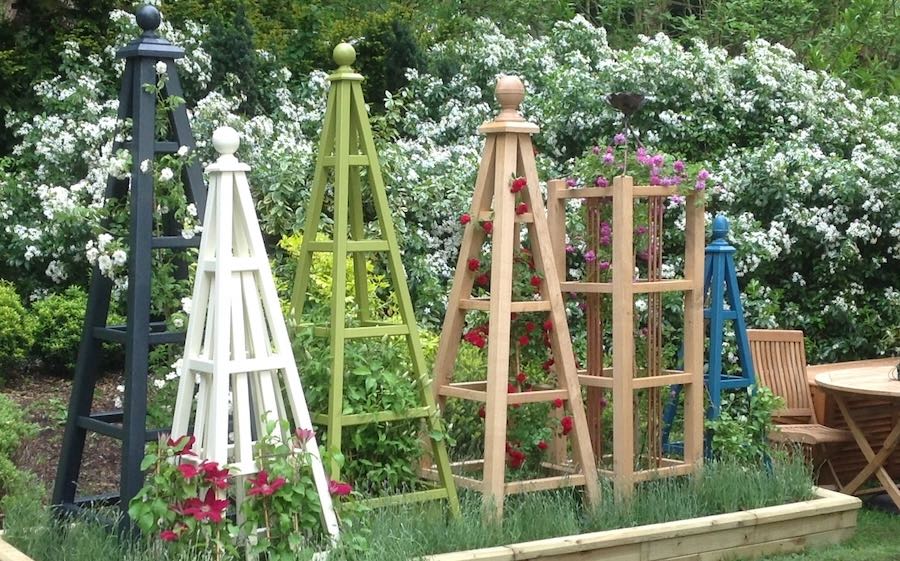 RHS Chelsea Flower Show 2019
In 2019 our show stand at RHS Chelsea was again situated in the Artisan area of RHS Chelsea, with Ranalagh Gardens.
When designing the show stand we chose again the central area to be an area of wooden decking with beds either side that contained a selection or our Hand Crafted Obelisks and Planters, which since 2016 have manufactured using environmentally friendly Accoya timber for the obelisks and planter frames, plus the panels of the planters are made from Environmentally friendly Medite Tricoya Extreme. We can design and produce in house, planter panels to clients specifications using 18mm Medite Board.
The central decking area allowed us to meet potential clients and discuss any requirements that they had and to answer any questions whilst allowing other people to view our products from the front and side of the show stand.
We took along 3 garden planter designs including our most popular design the Versailles Style planter which was exhibited using a large specimen Acer, our Georgian planter ( filled with Lemon Thyme for a wonderful sensory experience and so many people brushed their hands through it, it was much enjoyed )
The final garden planter design we use for our company Logo, it is our Gothic design and the one on the show stand featured a solid copper sheet /panel set between 2 Medite Tricoya Extreme panels, it also is finished off with our Gothic Finials, this was also planted up with a beautiful Specimen Acer
The Trough Garden planter with built in trellis (shown on the stand with a selection of 4 designs to show that the panel can have 1 or more styles on it if required) the trough was shown planted up with a selection of Foxgloves & Ferns which proved a very popular idea with visitors to the stand for potential planting scheme ideas for their own gardens
The Accoya garden obelisks we showcased were a selection of our 3 standard sizes of our Classic painted obelisks and one of our Sweet Pea Design garden obelisk with vertical supports for plants.
To make the stand appear more appealing we again manufactured a storage box that also held the Parasol that provided both ourselves and visitors with some shade during the daytime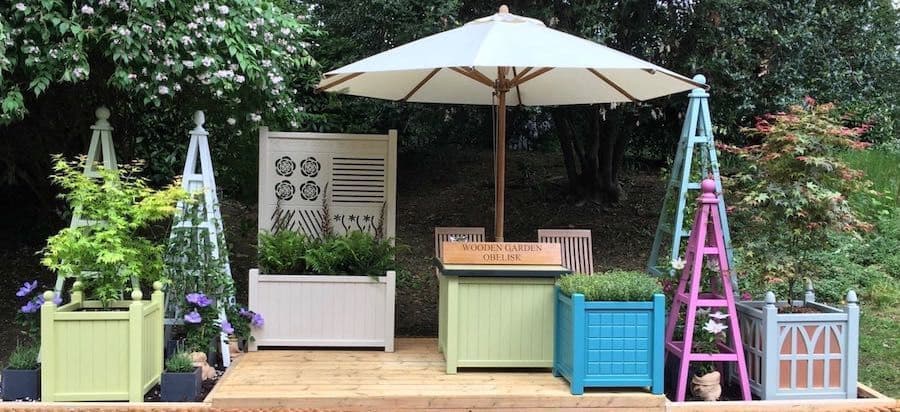 Below is a list of RHS Flower Shows where have exhibited our Wooden Garden Obelisks and Planters
RHS Chelsea Flower Show 2015, 2016, 2017, 2018, 2019
RHS Hampton Court Palace Flower Show 2014, 2015, 2016, 2017
RHS Chatsworth Flower Show 2017
RHS Tatton Park Flower Show 2015, 2016